Life can sometimes be difficult for people with autism or ADHD. Some theories suggest that people with autism, particularly children, can find it difficult to cope with the overwhelming barrage of sensory input and stimulation around them. This can make it very difficult for them to relax and can lead to all kinds of problems due to long term tension in both body and mind. Similarly, people with ADHD find it difficult to settle and relax, so often find themselves tense for long periods of time. Fortunately, researchers in Sweden recently found that floatation can improve the lives of people suffering from some of the effects of these conditions. Not only can it help relieve the physical tension, it can also help their mental state.
A Study of One Woman
One particular study focused on a 24-year-old woman diagnosed with attention deficit hyperactivity disorder, atypical autism, post-traumatic stress disorder, anxiety and depression.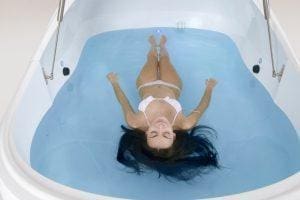 She floated regularly for one and a half years and was interviewed regularly during this time to monitor her state of mind. Like many people, she wasn't completely convinced by her first few floatation experiences as she struggled to settle and find a comfortable position. After three or four sessions, however, she began to experience positive changes. Her tension eased, her outlook became more positive and she felt she had more energy. After that, she went from strength to strength and even described herself as 'a new person' who no longer needed medication, felt far less anxious around people and was far more confident and positive in going about her daily life. Two years after the study, she was still floating once a month and had remained medication free and had even quit smoking too.
Relief from Overstimulation in Children

The sensory deprivation of a floatation tank can provide a welcome break from the constant bombardment of input experienced by some autistic children. Some studies suggest that these children become very tense and overwhelmed by the world around them so spending time in a float pod is a nice way for them to escape it all. It allows them to completely rest free from outside stimulation and the pressure of interacting with other people. Being able to relax allows them time to recover from the stresses and strains of daily life and their bodies benefit greatly from releasing all that tension.
Peace and Concentration for ADHD Sufferers
For people with ADHD or ADD, laying still in a float tank for an hour can be a real challenge but any find that they are able to do exactly that if they persist in trying. Some ADHD sufferers report having to get out before the full hour is up initially but being able to extend the amount of time they spend in the pod each time they try. The benefits they receive from persevering make it all worthwhile as people report improved concentration levels, better sleep and a general feeling of peace as well as relieving the tension in their bodies.
Being able to relax deeply away from outside stimulation is beneficial to everyone but particularly those struggling with tension due to autism or ADHD. To speak to one of our team about whether we think floatation could help you, call 01273 933680 or book here to give it a try.