Private Group Yoga Classes
Private Group Classes in Hove
Are you planning a hen do, office party or small event and want to break from the normal and create something with wellbeing in mind?
At The Float Spa in Hove, we have a team of incredible therapists and teachers who can help you design an event you will remember.
The Float Spa offers small group yoga classes which are designed with you in mind. Would you like a strong flowing yoga practice, or a more slow and meditative option. 
With the option of using one of our two on-site studios or we can head to a location of your choice. 
Hen Parties with a difference
Yoga hen parties are becoming increasingly popular at The Float Spa. And we can see why.
After all, hen parties are changing, people are changing, people's desires and wishes are changing. 
But let's be honest, it's time for a change.
Enter the age of the new and improved hen party. Its safe to say hen party planners are looking for something different.  They're looking for fresh, new and unusual hen party ideas. They're looking for ideas as unique as their bride to be.
At The Float Spa we can help you plan a non traditional hen yoga party. Plan a hen party you're bride to be will LOVE! 
Jennie initially turned to yoga teacher training to understand and relieve chronic back pain after exhausting treatment options. She continued to further her knowledge by studying with teachers, predominantly with a background in the Iyengar or Tantra lineage, who she found inspirational and remains a student today. Yoga has been a path of healing for Jennie, which has deepened her sense of self and enriched her experience of life.  She offers the safety of an …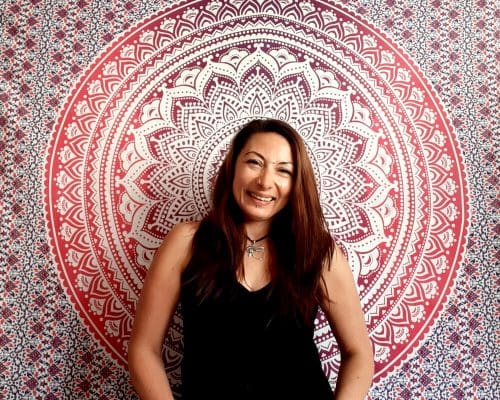 Do you have a body? Can you breathe? If so you have everything you need to practice yoga! For Ashka, yoga is not about being bendy or able to touch your toes. She considers it to be a philosophy and a state of mind. For her it is a practice of awareness and kindness towards ourselves and others. In her opinion we practice yoga to calm the mind in order to connect with our heart; …
Sarah is passionate about a holistic approach to wellbeing and believes that everybody can benefit from incorporating yoga into their lives. She sees her role more like a guide on your path of self-discovery, rather than an instructor telling you what to do.  Trained in mat yoga, chair yoga and massage Sarah aims to create a loving and supportive environment in which students can intuitively explore movement in a way that serves their unique body …