Our Infrared Saunas are not only a more comfortable alternative to traditional saunas and steam rooms, they have additional health and wellbeing benefits too. 
Infrared Sauna at The Float Spa
For people who find the heat in a traditional sauna too intense or simply don't enjoy sitting in a hot ill-lit room with half naked strangers, an infrared sauna is a great alternative as the heating effect is much more gentle and you get to sit in the sauna alone with relaxing light therapy and your own choice of music if you desire.
All round, a session in one of our infrared saunas is a deeply relaxing experience which improves blood flow, eases pain and has a wide range of health benefits. 
Bookings
The easiest way to book an Infrared Sauna session is online click below.
Prices
View the Infrared Sauna session prices from one off to membership.
FAQs
We love questions! Here are the most asked questions, feel free to ask us more.
When you arrive at the spa, you will be greeted by one of our friendly staff who will give you some water and take you through to the sauna room. If you would like some aromatherapy while you're in the sauna, speak to our staff about which essential oils would be best to suit your mood and what you're trying to achieve. The room itself is completely private with its own shower. There are controls for the sauna both inside and outside so our team can set the timer and the temperature to start with but you can lower or raise the temperature yourself to your comfort level. We recommend not having it any higher than around 55°initially until you're used to it.
Once you're ready to get into the sauna, strip off completely and step inside, closing the door behind you firmly. For people who want to sweat as much as possible, we recommend taking a short warm shower before getting into the sauna. 
Once you are in, you will notice a small remote control you can use to control the light in the sauna. It has different colour settings as well as light changing modes so you can indulge in some light therapy to help you relax even more.
You will notice yourself getting warmer gently. It isn't like the sudden intense blast of heat you get with a normal sauna. The seat doesn't get uncomfortably hot and the air around you isn't humid or hot when you breath in. Infrared sauna heat is quite difficult to describe because it isn't like the heat you feel from lying in the sun. It's more like the heat you feel when exercising but without the exercise, if that makes sense. You will find yourself sweating a great deal and if the heat does become uncomfortable, you can either turn the heat down on the controls or open the door of the sauna for instant relief.
Most people find the experience deeply relaxing as the heat and light (and aromatherapy if you chose to have that too) is very soothing. You'll leave covered in sweat, which is the idea of a sauna really, but feeling calm in the mind with a relaxed comfortable body. Feel free to have a nice shower before coming through to our relaxation area for some sorbet and tea.
Virtual Sauna Consultation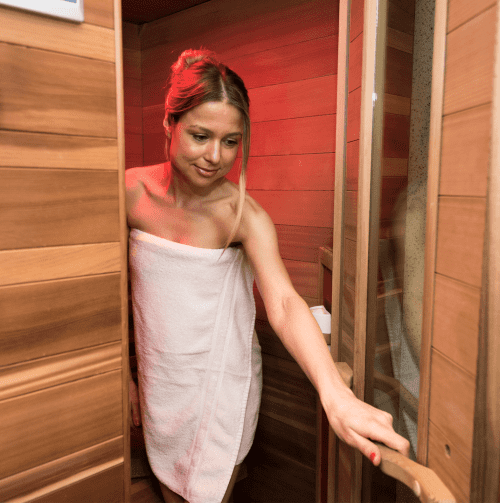 200+ 5-Star Raving Reviews!
How do Infrared Saunas work?
Unlike traditional saunas which heat the air and this heats the people, infrared saunas use harmless infrared light waves to penetrate the body and gently heat it from the inside. This heat relaxes the muscles, soothes away rheumatic pain and stimulates blood flow by increasing your heartrate. You still sweat like you would do in a normal sauna but, as the infrared sauna only heats you and not the air around you, the air you breath is a nice temperature and the warmth you feel is much more comfortable. Infrared is so safe, it's used in hospitals to warm new born babies. Our particular make of infrared sauna emits an EMF (electromagnetic field) that is so low it is negligible so there is no risk of suffering the possible negative effects of EMFs even if you are a regular user.
What can Infrared Saunas help with?
Because of the relaxing effect, infrared saunas are very effective at treating the symptoms of stress and relieving muscle tension. This, along with the way it raises your heartrate, stimulates blood flow to promote healing and flush out toxins from the muscles. Therefore, infrared saunas can help with:
Rheumatic pain
Chronic pain
Poor circulation
High blood pressure
Lowered immune system
They've also been shown to have the following benefits:
Improved skin condition – the sweating opens and purifies pores while stimulating collagen production
Weight loss – the heat and raised heart rate burn extra calories
Relaxation – the 'exercise effect' releases endorphins and other feel good hormones
Are there any negative side-effects?
Infrared saunas have no negative side effects and are completely safe so you can try ours for any of the above conditions and more or just for a lovely relaxing experience which leaves you with the same feeling as doing moderate exercise.
Yes, you have complete control of the temperature inside the infrared sauna from an easy to use panel inside the sauna.
If you become uncomfortably hot and need relief, you can open the door of the infrared sauna at any time to let some cooler air in. You can also step outside the sauna at any time you like if you need a break.
The type of infrared rays used by our infrared sauna are the same they use in incubators for newborn babies so they are very safe and because there is no steam and hot surfaces involved, there are no places you can burn yourself easily.
Can I listen to music/pod casts/audiobooks inside the infrared sauna?
Yes, our infrared sauna is Bluetooth enabled so you can connect your device to the sauna to listen to it through the speakers inside.
What should I wear in the infrared sauna?
Ideally, you shouldn't wear anything at all and simply sit on a towel inside the sauna naked. The infrared sauna has its own room with a shower so it's very private but if you would feel more comfortable wearing a swimsuit then it's entirely up to you. 
Can I listen to music while I'm in the sauna?
Yes. If you would like to listen to music or a meditation track or anything from your phone, you can connect it to the sauna using Bluetooth before you get in. It's probably best to leave your phone outside the sauna so you aren't tempted to keep looking at it while you're trying to relax.
Yes, all toiletries, Organic Shampoo, Conditioner, Shower Gel are provided. Towels are also provided. Just bring yourself, make-up, deodorant and hair brush, relax and enjoy!
I'm new, what would you recommend?
Great to have you here! Here are our recommendations for a safe first session:
Sauna sessions should be limited to no more than 30 minutes initially and temperatures must stay below 65 degrees Celsius.
It is always important to maintain proper hydration levels during far infrared therapy. Dehydration will actually increase carbohydrate utilization and cause less fat to be burned for energy. We highly recommend drinking a minimum of 4 oz. of water prior to entering the sauna and a minimum of 8 oz. of water after sauna use. Water bottles are not permitted in the sauna, but we have plenty of water for you to take with you.
Please consult your GP if you are in doubt regarding your ability to use the far infrared sauna for health reasons.
Can I use the infrared sauna if I'm pregnant?
We would advise you to speak to your doctor before using the infrared sauna while pregnant. 
Can I use the infrared sauna if I have a heart condition/high blood pressure/pre existing medical condition or am taking prescription medication?
We would recommend speaking to your GP before using the infrared sauna if you have a pre existing medical condition. 
How does the infrared sauna work?
Unlike a traditional sauna which uses steam to heat the air in the sauna, an infrared sauna uses infrared light waves to penetrate the body and heat it in the same way light from the sun does but without the harmful UV rays. As it gently heats the body, it makes you sweat and has all the same benefits of a traditional sauna but feel much more comfortable because the air around you isn't hot. 
How is the infrared sauna beneficial?
The heating, relaxation and detoxing effects of the infrared sauna mean it can help with:
Rheumatic pain
Chronic pain
Poor circulation
High blood pressure
Lowered immune system
And has the following benefits:
Improved skin condition
Weight loss
Relaxation
De-stress
What should I do before getting in the infrared sauna?
To get the most out of your sauna, we recommend taking a warm shower before you get in but this isn't essential but it is a good idea to remove any make up and tie up long hair. 
Please Note: It is not recommended to use our infrared sauna if you are pregnant or under the influence of alcohol or drugs.
People suffering from high blood pressure, dizziness, fainting spells, heat sensitivity, narcolepsy, seizures, any bleeding disorders, a history of heart attack or cardiovascular disease please consult your GP prior to using the infrared sauna.