Most people use the New Year as the impetus to implement a healthier living regime. It's tough though and good intentions have a nasty tendency to evaporate like a puddle in warm weather. Sticking to your resolutions takes a huge amount of discipline and it can be very hard to maintain it when it's so cold and dark outside. Fortunately, regular floatation can help you stick to your resolutions and feel much better about this bleak time of the year.
Exercise
Starting to exercise or exercising more are high up on people's resolution list but, with motivation flagging, little aches and niggles can put people off. Floating completely free from the ravages of gravity allows muscles and joints the opportunity to completely relax bringing relief from pain and tension. People who float regularly find a reduction in pain caused by conditions such as fibromyalgia and a faster recovery from injuries. Other benefits include stress reduction and improvements in mental health conditions such as depression and anxiety. As all of these are major motivation killers, getting them under control will hugely impact on your ability to do positive things like exercising.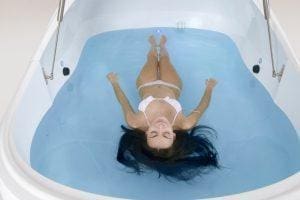 Eating Habits
Apparently, healthier eating is the most popular New Year's resolution this year and it's another one of those things that starts off well but slowly slips away as the weeks go by. Because floatation relieves stress and anxiety, enhances focus and allows people to exert more control over their thoughts, it can be very helpful for people who want to change their eating habits. Studies have shown that people who have combined weight loss help with floatation have had more success in losing weight than people who don't float.
Stop Smoking and/or Drinking Alcohol
Breaking bad habits and taking part in 'Dry January' are also common New Year's resolutions. The first two weeks are always the worst and a little bit of stress or unhappiness tends to push people into lapsing back into their old ways. Floating in a stimulation-free environment combined with positive messages fed into the tank can have a really positive long term effect on people's mind set that allows them to stay away from cigarettes or booze. Plus, the reduction of stress and improvement in mental health that happens with regular floating can make stress and difficulties easier to handle without resorting to falling back on bad habits.
Sleep Better
Health professionals are regularly reminding us how important it is to get a decent amount of good quality sleep and some people even have this as a New Year's resolution. Even those who don't have that one specifically will find that being tired or otherwise lacking in sleep can do terrible things to their motivation and will power so sleeping better does wonders for keeping other resolutions. Thankfully, one of the most common effects people notice after floating is that they sleep better that night. Those who float regularly report that their sleep improves over time even on nights when they haven't floated.
Feeling good, de-stressed and free from aches and niggles are key in trying to stick to any positive life changes you want to make. Floating can help put you in the right frame of mind to make those good choices and help get you over the bumps along the way that can cause a lapse into your old ways. To find out more about how floating can help you break unwanted habits or make new good habits, call 01273 933 680 or click here to book a float.