In the often macho world of professional sport, yoga is seen as a gentle relaxation activity with no real relevance to competitive sport.  Retired professional cricketer, Lewis Hatchett, would challenge this view as he used yoga to not only improve his athletic performance, but also to prolong his career in the face of a medical condition that could've prevented him ever doing sport at all.  It makes sense when you realise that yoga improves your strength, flexibility, balance and focus while making you less prone to soft tissue injuries.  What sportsperson wouldn't want that?
Lewis Hatchett's Story
Lewis Hatchett had had the same reservations about yoga that many sports people have – that it's a feminine hobby involving spiritual beliefs and practices – but changed his mind after it helped him overcome problems associated with his rare Poland syndrome.   This condition meant that, as a child, he was told he couldn't take part in sport but he ignored the doctors' advice, like kids do, and played sport with his friends.  He went on to fulfil his dream of playing professional cricket for Sussex and discovered that yoga was actually a really effective way to prevent injuries, re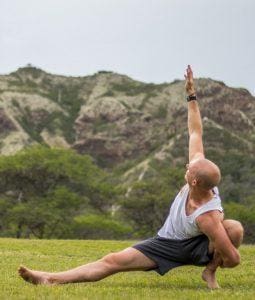 cover from injuries and improve this performance all round.  Now retired from cricket, he teaches a form of yoga specifically designed to suit sports people.
What is Yoga For Sport?
Yoga for Sport uses poses and flowing sequences to increase strength, improve flexibility and work up a sweat.  Although it does use meditation and encourages practitioners to be mindful of their bodies, the focus of this type of yoga is away from the more spiritual side of things, in favour of the physical.  Stretching is a vital but often neglected part of any exercise or training regime so sports yoga aims to correct this oversight to give practitioners the benefits of greater flexibility, quicker recovery after training sessions and less chance of soft tissue injury.  Regularly stretching the muscles helps to prevent injuries by stretching the connective tissue too which gives them greater elasticity and strength.
Yoga for More than Sport
Lots of yoga techniques involve balance and exercises to strengthen the core muscles which is very helpful in all types of sport where stability through the body and good balance are essential.  Strengthening these muscles is also very helpful in alleviating back pain in people who work in front of a computer all day.  Another part of Yoga for Sport that's helpful for people's sporting life and their working life is in the increase in focus it encourages by relaxing the mind and improving concentration through mindfulness.
Any type of yoga will contribute towards these benefits for sport, not just sports yoga, so none of them should be disregarded as just a relaxing hobby.  Lewis Hatchett teaches Yoga for Sport at The Float Spa for people who take their sport seriously but we have a wide range of other yoga stylesavailable so there is something for everyone.  No matter what your level of fitness, your experience of yoga, your age, your body shape or your attention span, you can experience the benefits of yoga in your professional and personal life.  Call The Float Spa on 01273 933 680 to talk about which yoga class would suit your preferences.