Each month we feature one of our Teachers – highlighting an area of their work. This month's feature is on Emma Cole who came to Yoga from a Professional Dance background.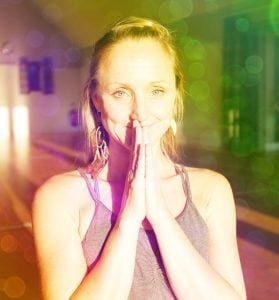 Emma's spiritual aim is to support students in moving through daily life with integrity, dignity, acceptance, connection to nature, truth, courage, love and grace. Physiologically, she wishes to share the freedom, healing, delight and joy that arises in the body when tensions are released and inner energy is flowing freely. Her gentle classes are soft, relaxing & nurturing while her strong classes are visceral, energising and detoxing. 
Emma teaches at The Float Spa on Tuesday evenings:
6.00pm-7.15pm Hatha Flow & Restore
7.30pm-8.45pm Strong Vinyasa Flow
Reflections and Musings from Emma
"In this culture of 'positivity' it can seem quite 'radical' for a yoga teacher to be open about their own challenges. Indeed, many students say 'Oh you must never get stressed / 'You must be chilled out all the time!'…this is not the truth. It takes daily mindfulness, presence and effort to honestly engage with the challenges of being human and this is the just the same for Yoga Teachers. Teachers are not perfect Gurus who are "all enlightened and that"!
Hopefully what teachers are, is sensitive and able to embody and share wisdom…
In fact, it's only through the painful experiences of suffering that Yoga Teachers tend to learn the deeper spiritual lessons that enable students to connect with and benefit deeply from their classes.
Last year, Emma noticed a severe imbalance in her life from racing around, doing too much and not finding enough time to be quiet, still and to process recent challenging shifts and heartbreak that was occurring in her own life. As Emma says, even Yoga teachers get un-balanced and burned-out! Emma's medicine for this exhaustion and deep grief was to stop, surrender, simplify and soften. Emma was able to do this through the gentle practices of Womb Yoga, Yoga Nidra, Restorative Yoga, Pranayama, Mindfulness & Meditation.
Every day Emma laid down on the floor and just felt her body – she felt the tiredness and pain in her soul and stayed with it…for months. Sometimes it felt utterly unbearable, but she lay as often as she could & for ample time in extremely gentle, supportive yoga poses (Restorative Yoga) and just breathed. Emma's heart rested. Slowly but surely, she began the process of true, deep restoration. Emma connected with the sweet, vulnerable, wounded, tired woman within her. When Emma was done being still, she moved instinctively, SO gently, allowing herself to sink down into the wellspring of her naturally arising vitality (Womb Yoga). Emma felt herself being replenished! She sang soft, gentle, healing mantras in groups of other tired souls and felt re-connected to humanity. She took time out to unplug properly and went on meditation retreats to cultivate profound acceptance of each moment and every sensation as it arose within her.  Finally, every day, she practiced 'Yoga Nidra' which allowed her nervous system to truly re-boot:
Most people sleep without resolving their tensions, this is termed 'nidra'. Nidra means sleep – no matter what or why. But Yoga Nidra means sleep after throwing off the burdens. It is of a blissful, higher quality altogether. This is the experience of total relaxation. Relaxation does not mean sleep. Relaxation means to be blissfully happy, it has no end. 
Sleep is a different matter. Sleep gives only mind and sense relaxation. Bliss relaxes the atma, the soul/ the inner self".  Swami Satyananda Saraswati.
"Incidentally, the benefits of 'Yoga Nidra' very much echo the benefits of Floating! Emma love's floating and felt very lucky when she found The Float Spa, in Hove! Emma continue's to Float regularly as it feels so good for her nervous system! Emma also ensures that her weekly practices incorporate a balanced diet of yin and yang activities – so in addition to her Dynamic Vinyasa Flow Practice (which she also loves) she always does some delicious Restorative Yoga, Womb Yoga or some Yoga Nidra.
When Emma tends to herself in this way, tenderly, consciously and regularly, she feels connected to life & a blissful ease and comfort in her body and soul but it takes awareness and commitment and beginning again and again and again.
It's a beautiful moment when we realise that there is no 'quick fix', no 'one moment' where suddenly we become free of stress and burden! That actually, it's a daily practice and a living process to engage with for the rest of our lives. That 'this is it': We either engage on a (mostly) daily basis with own wellbeing and healing or if we don't, we risk dropping into that place of numbness, stagnation, habit or forgetfulness. When this happens (as it does to us all ) the body will start complaining as it begins to suffer from the harmful effects of inner tension, restricted movement and breath deprivation." 
When we get stressed the breath becomes very shallow and there is less oxygen exchange happening in the cells and the fight or flight response kicks off in our nervous system. This is a primal response (to perceived danger/threat), triggering the chemical release of the stress hormone 'cortisol' in our body, activating our survival mechanisms (e.g. adrenalin spikes the heart rate and we feel a surge of energy – ready to run away fast or fight our ground!).

So what happens when cortisol / adrenaline levels are unable to return to normal after stress? When the body is saturated with cortisol and adrenaline, our immune system may weaken and we can become chronically fatigued. Some other effects are:
increased abdominal fat / weight gain
cognitive impairment
high blood pressure
lowered resilience
brain fog
depression
anxiety
sweating and palpitations"
Seeing that so many of us are in need of switching off the flight or fight response, softening, slowing down and restoring on a deep level, Emma is teaching 2 blissfully NOURISHING YOGA WORKSHOPS on Friday 14th August (it's a New Moon) at The Float Spa in Hove.

Women's New Moon Healing Yoga Workshop – 3-5pm 
(Connecting to the Feminine, Restorative Yoga, Womb Yoga, Pranayama, Mantra, Yoga Nidra, Poetry, Gentle Sounds, Silence, Head Massage)
Restorative Yoga Workshop for All – 7-9pm 
(Restorative Yoga, Pranayama, Yoga Nidra, Poetry, Yogic readings, Gentle Sounds, Silence, Meditation, Head Massage)
£25 Spaces are limited – please book your place to avoid disappointment.