Despite having wildly different origins, yoga and Pilates are often associated with each other in people's minds.  To be fair, they are both gentle forms of exercise that are often not used to lose weight or improve cardiovascular fitness (but there are some forms of yoga now that can do these things).  Both seek to connect mind and body and can help injury recovery as well as improving stability and strength in certain areas.  Because of these similarities, people are sometimes confused about which would be the best one for them and this is added to by there being so many different versions of both available now.  Here are some very basic differences between Pilates and yoga.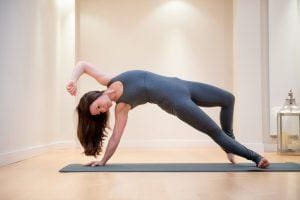 History
Yoga has roots going back as far as 5,000 years in ancient India.  It is part of Hindu tradition and encompasses physical, mental and spiritual practices.  Although it was introduced to the West in the late 19th and early 20th century, it only caught on as a popular form of exercise in the 1980s.  Pilates, on the other hand, was developed by an individual, Joseph Pilates, hence the name, during World War I.  As a German national in Britain, he was held on the Isle of Man during the war where he helped other detainees recover from injuries and strengthen their bodies through the use of exercises and apparatus.
Techniques
Apart from the fact that Pilates sometimes uses apparatus and yoga rarely does, the two exercise systems do look quite similar from the outside and share some poses, etc.  The main difference is in the focus.  Yoga uses stretches, poses and movements to stretch, relax and strengthen the whole body while Pilates is much more focused on strengthening and stabilising the core muscles.  Stretching and strengthening exercises are used by both disciplines but, because yoga has such a long and varied tradition, there is far more variety in yoga and styles of yoga are much more varied than Pilates.  Pilates exercises are mostly focused on mat work using small movements to focus on areas of the core and spinal alignment. Yoga moves vary from standing balances, inversions and standing poses to flowing sequences and sitting or lying stretches.
Applications
People do yoga or Pilates for a wide range of reasons and there is often an overlap as they are both techniques that allow people to connect with their mind and body.  Many people who are suffering with back pain try yoga and/or Pilates to alleviate their problem but this is much more associated with Pilates.  Some physiotherapists and other people who treat back pain recommend that people do Pilates to stretch and strengthen the muscles in their core to help with back problems.  Both yoga and Pilates improve movement and can provide low impact exercise but people often want to connect with the more spiritual side of yoga.  Many yoga practitioners find it can bring them a lot of peace and relaxation with some saying that it brings an awful lot of positive changes to their lives.
If you're unsure whether yoga or Pilates would be most suitable for your needs and preferences, there's a simple solution.  Try both.  Both practices are very safe and there are classes suitable for absolute beginners in both disciplines.  Some people regularly practice yoga and Pilates as they do compliment each other well.  At The Float Spa, we have a wide range of yoga classes for you to try and would be very glad to speak to you about which one could be best for you.  Call us on 01273 933 680.