Using our infrared saunaand our floatation tanks are both great ways to relax but what happens when you put the two together?  Not only do you feel even more relaxed than you would do if you did them individually, you get to detox yourself with the infrared sauna, wash away all the nasty stuff and then replenish your magnesium levels with a session in our float pods.
Regular Float Spa visitor, Leah Mooney, was one of the first people to try this combination and this is what she had to say about her experience:
"When I was offered a chance to try out the infrared sauna and float combination, I wasn't sure what to expect because I generally struggle to spend more than about five minutes in a sauna before it gets too hot and stuffy for me.  I float fairly regularly though so that didn't worry me.
One of the girls took me through to the sauna room and showed me how it worked.  It was bigger inside than I thought it would be and I was surprised by the fact that the air in there didn't feel hot at all.  I set a pleasing light changing function and connected my phone to the sauna via Bluetooth so I could listen to an audiobook (I'm nerdy like that).
After 20 minutes or so, I did start to feel quite warm and couldn't have done longer than 30 minutes but I did feel surprisingly relaxed.  After a quick shower, I popped on a dressing gown and skipped across to a float room.  Feeling quite relaxed already, I felt thoroughly up for getting in the float pod. My neck is so stiff that I always use the neck cushion in the pod but I found I could relax much more quickly than usual.
It felt like the seaside sounds started again straight after they'd stopped because I'd relaxed so quickly and so deeply.  When I heard the sounds to signal the end of the session, I wanted to turn them off because my limbs felt so heavy and relaxed, I really didn't want to move.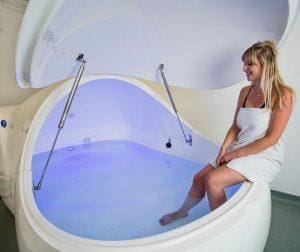 After my shower, I sat in the chill out area with the usual sorbet and tea and was so relaxed, I actually spoke to other people around me (I never do that!) and went off feeling thoroughly chilled and happy for the rest of the day.  The next day, a friend of mine commented on how nice my skin looked. A great result all round, I'd say."
If you would like to experience the infrared sauna and float combination for yourself, or book on or the other, call 01273 975618 for an appointment.