I'm at the very beginning of my Floatation journey, and I'm hugely looking forward to continuing along this path, I can already see and feel the benefits. Floating is a one of a kind experience, which if you've floated before I'm sure you'd agree. For me it was magical right from my very first float.
Being able to lie there without the constant push and pull of gravity is something special. Then having time to myself to do nothing; to let my thoughts unwind and to let go of any negativity, I'd latched onto in the days, weeks and my case months before, is in my mind really life changing.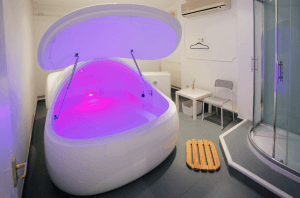 I will be honest, for my first float I did find it very difficult to switch off at the beginning and to let go of all the mind chatter. I wasn't surprised by this as it is something I've struggled with for a while when practicing meditation and yoga, as well as at night when trying to sleep. But with that said, even though I found it difficult to switch off I still felt the benefits starting to arise right from the beginning. Once finished and out of the pod I felt a different person, I felt a wave of positive energy and my mind and body both felt refreshed and revived.
My second float was where the magic started to truly kick in, I was in fact able to relax right from the beginning. I was able look past my mind chatter, using the meditation of acknowledging my thoughts, but letting them drift away like clouds in the sky. I felt my muscles relax and tensions dissolve, I felt the stresses of my day decrees and when finished I felt the same wave of positive energy as I felt to my first float. But on top of that, I also felt a huge weight had lifted off of my shoulders.
Moving onto my third float, I know that as I now felt a lot more able to find my place of calm and serenity. I was able to relax completely and, enjoy simply being, I could let go of all my worries and switch off all the mind chatter.
My fourth float was of course another mesmerising experience, but with added bonus of using the new pod. You may be wondering, how is the new pod different to the other pods? For me, the water felt more buoyant, soothing and I felt even more lighter on the surface of the water. Then of course, I felt all the wonderful benefits as mention in the previous floats during and after.
Not only do I feel the benefits of the float during and just after the float, but the night after my float sleep a lot better too. With being someone who finds it difficult to fall asleep this is definitely one of my favourite benefits from the experience.