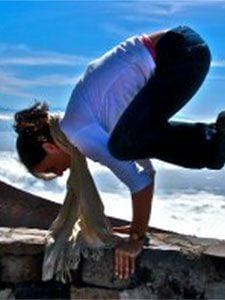 September Teacher of the Month – Jacqueline Wigglesworth
Jacqueline is a global traveller who has led many community based trips abroad, particularly in South America and helped set up a Book Bus charity for children in Africa which is still going strong 10 years on. She has a degree in English and Drama from Exeter University and went to Drama school in London where she was first introduced to Yoga in 1997. She always remembers how she felt after her first class; as if she were floating on clouds. She concluded that there was far more to yoga than just physical exercise and so set about learning all she could about the philosophy and studying many different styles from Hatha and Iyengar to Restorative, Yin and vinyasa flow. Jacqueline trained to teach with Triyoga in London, with Shiva Rea in LA and with Kausthub and Desikachar in India. Her style of teaching is fun, safe and inspiring, always including breathing exercises and uplifting quotes in amongst the physical exercise. She just enjoys sharing the many benefits that yoga offers to people of all levels who attend her classes. She particularly loves teaching Yin Yang Yoga as it beautifully balances the more active, dynamic, solar practice with a more passive, gentle, lunar practice bringing about the ultimate elusive goal of yoga which is union of the body, mind and spirit, and union of the self with all that is. Jacqueline also leads yoga retreats in beautiful locations like Turkey and Kerala- India through Free Spirit Travel. Come and experience the wonderful and varied benefits of Yoga with Jacqueline at the Float Spa.
Yin Yoga is a wonderful counterbalance to more dynamic forms of exercise, and a unique way of deeply stretching the tendons, ligaments and connective tissues in the body, essentially the inner body. It also clears and balances the meridian channels and helps shift you into the parasympathetic nervous system, meaning the body can rest enough to focus on growth and healing rather than always being on alert. Its ultimate effect is one of deep relaxation. The poses are held longer than in a normal class; anything from 2-5 minutes which allows the stretch to go deep into the body, even penetrating the joints and bones. Yin yoga is also a wonderful tool for difficult times in life as it essentially teaches you to stick with something that may be challenging and breathe through it, knowing that it is temporary and will change and improve. It's less about 'doing' and more about 'being' and is ideal practiced in conjunction with a Yang or more dynamic practice.