Beware of Workplace Stress
According to the Health and Safety Executive (HSE), 12.5 million working days were lost in 2016/17 due to stress, depression and anxiety.  A further 8.9 million working days were lost due to musculoskeletal issues. All of these issues can be caused by or worsened by stress.  Although everyone is different and stressed out by different things, work related issues are some of the most common causes of long term stress.  Fortunately, employers, employees and business owners are becoming increasingly aware of the dangers of workplace stress and are taking steps to understand and tackle it.
Causes of Workplace Stress
Again, everyone is different when it comes to what causes them stress at work but the HSE has identified some key areas that seem to be most commonly responsible for workplace stress. They report that the work aspects that cause stress the most are:
Finding the work too demanding or having too much to do in too short a time
Little or no control over how they do things
Not receiving enough information or support
Problematic work relationships or bullying
Poor understanding of their roles and responsibilities
Fear of changes being made without their knowledge or consent
Poor management is typically responsible for lots of these problems but sometimes employers are simply unaware that their staff are struggling and business owners can find themselves bogged down by stress without realising it.
Signs of Stress
It's not always easy to spot that someone who works for you or someone you work with is stressed. People don't always recognise it in themselves.  It can manifest as mood swings, withdrawn behaviour, lack of motivation, commitment or confidence and increased emotional reactions to things amongst other things. Stressed individuals can find themselves feeling indecisive, nervous, negative, isolated or eating more/less than usual or finding it difficult to sleep or concentrate.  If you notice any of these symptoms in yourself or your colleagues/staff, it's worth thinking about if stress could be the cause.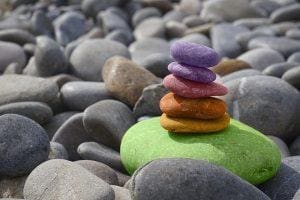 Dealing with Stress
Many of the above issues that can cause stress can be dealt with by making changes at work with the support of an understanding manager.  Sadly, not everyone has an understanding manager but most employers will offer extra training if staff are struggling with their work through lack of understanding or the correct skills.  Staff members' ability to take control and prioritise their work differently will, obviously, depend on their job but it's always worth, even for business owners, looking at new ways of organising your time if you're stressed to see if there are things that can be put on the back burner so you can at least feel that important things are getting done.  According to the NHS website, a sense of achievement and taking control even in small ways are useful to combat stress.  Other tips from the NHS include exercising to take the sharp edge off the stress symptoms and taking time out for yourself.
It's this last part, in particular, that we can help with at The Float Spa.  Floating, yoga and are all incredibly good at relieving stress even if it's only for a short time.  Being able to take a break from stress isn't only really good for your mental health, it also helps to combat the accumulative effects stress has on the body.  To talk to us about how our services can help you with workplace stress, call 01273 933 680.