I hear this all the time.  I'm not strong enough. I'm not flexible enough.  I don't have enough upper body strength.  My body is the wrong proportions.  The list is endless.  One of the reasons I am running a workshop dedicated to arm balances is because most people 'can't' do arm balances because they haven't been taught.  It's kind of like DIYing without the manual.  This often results in brute force and an insecure structure.  How do you expect to be able to do crane pose (aka crow/ bakasana) if you don't understand the pose and your body isn't prepared?
They might be called arm balances but they sure as hell use the whole body!  When you know how to use a balance of strength and flexibility, when you have the tools to explore transitions in and out, stay safe and avoid injury it's much easier to overcome your fear of face planting and feel empowered.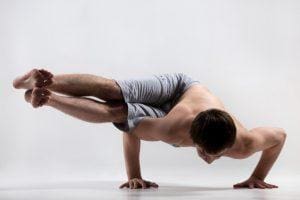 Class settings often don't have the time to devote the time to fully prep and explain arma balances which is why the workshop setting is a great place to dive in.  Workshops offer more time for playing and exploring.  To make progress we need the time to practice and fall out and feel the joy of getting back up and trying again.  Don't forget that arm balances have a much shorter falling distance than in inversions like handstand.
The great thing about teaching arm balances are that there are so many layers to them.  As teachers we get to unpack how the body works in the poses and prepare using a combination of opening and strengthening over a longer period of time.  It is really amazing how we can practice poses with a real sense of lightness and energy when the pose is set up correctly for us.
So, why practice arm balances?
We generally spend all day on our feet – switch it up!
Weight bearing helps to increase bone density.
It's a great balance of strength and  flexibility.
Develops focus and discipline.
While we don't want to focus on the ascetics, we do know that these poses are really beautiful.
It's pretty hard to be mentally on the 'to do' list when practicing this set of postures.
Experience the falling down and getting straight back up.
Fancy practicing some arm balances?  Remember you don't have to be able to do them yet.  Come learn and develop your practice.  Feel embodied!
Join me at The Float Spa Saturday 3rd September 1-3.30pm (£25/£20)
Contact sarah@sarahwilliamsyoga.com /07796345404 for enquires and bookings.
Sarah is a RYT 500hr Vinyasa Flow teacher in Brighton.  She teaches Saturday and Sunday at The Float Spa.