Now, detoxing is slightly controversial because the idea that there are things you can do to help remove toxins from your body was debunked some years ago. However, there are certainly things you can do to help your body cleanse itself of things it doesn't want and make you feel and look refreshed. Floating is one of these. Not putting bad things into your body in the first place is a great place to start but it's January, so you've probably started that already. Here is how floating can help you shift that 'over-indulged' feeling.
Aches and Pains
Isn't it odd how sitting around doing very little can leave you feeling so achy and worn? Getting back into exercise will help with this but probably give you a nice fresh set of aches in all new places. Thankfully, floating weightlessly in one of our pods is an excellent way to sooth away aches and help recover quickly from that new exercise regime. Being able to completely relax free from gravity means muscles relax, blood flow improves, aching muscles heal more quickly and pain is reduced. The overall effect is essentially a body tension detox to leave you feeling refreshed and raring to go.
Hair and Skin Health
One of the main reasons people want to detox after Christmas is because they feel they aren't looking their best so it's comforting to know that while you float away your aches and pains, the Epsom salts in the tank are doing wonders for your skin and hair. Your skin is a part of your body that does get clogged with dirt and 'toxins' so the Epsom salts help to scrub away the dead skin cells and kill bacteria.
De-Stress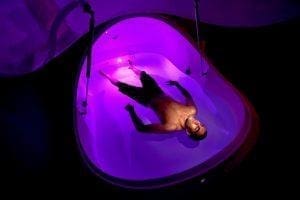 The worst culprit of making your skin break out, your digestive system sluggish, your muscles tight, your joints achy and eroding your will to make healthy choices is stress. Going back to work after a break can be stressful and tense family encounters over the Christmas period can leave people feeling stressed and overwrought. Improving your blood flow into tight muscles and improving your digestive health is what 'detoxing' is really all about. Floating can help all this by relieving stress and enhancing your overall mental health. By taking a complete break from outside stimuli and allowing your mind to completely relax, you reduce stress immediately and the effect accumulates the more you float.
Avoiding Re-Toxifying
Floating is also helpful if you want to give up things that are bad for you such as smoking, alcohol or too much sugar. Giving up any of these things is easy but staying off them can be a nightmare. Regular floats can help alleviate the effects of withdrawal from these things and help tackle the associated mental health issues such as anxiety and depression by releasing endorphins and reducing stress hormones.
To feel all the benefits above and boost your New Year healthy living regime, give floating a try. We often have great deals on floating packages and memberships so call us on 01273 933 680 for the latest deals and any more information on floating.