There's something about the feeling you get when you walk into The Float Spa that's very difficult to describe.  A regular yoga class attendee said it made her feel like she was delegating her stress as soon as she walked through the door.  This got us thinking because we knew it made sense that you would feel like you'd delegating the problem of your back pain to Mel, the chiropractor, or that you were delegating the job of managing your pain to the float pod once you were in there but weren't sure why people felt like that as soon as they walked in. Here's our theory on what creates that The Float Spa Effect:
Before the Session
Lots of people come into The Float Spa because they have some kind of problem they want us to address whether it be physical pain, emotional pain or stress.  Some people come in for a treat.  Either way, we need to make those people feel like they've come to the right place as soon as they walk in or there's every chance they could walk back out again especially if they're anxious.  We create a relaxing atmosphere by making our reception clean and not cluttered without being too clinical.  Our staff always greet people warmly and tell them exactly what to expect to lessen anxiety and make guests feel welcome.  We even think asking people to take their shoes off adds to the comfortable feeling of being in The Float Spa, not just from the cleanliness angle, but also because it's something you do when get home or are in a place you're relaxed and planning to stay a while.
During the Session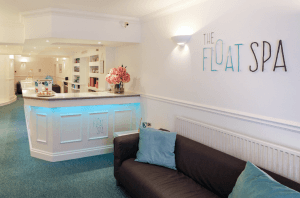 The clean but not clinical feel continues throughout the spa whether you're using our yoga studio or one of the float rooms.  We think the way the spa is below ground level but not dark gives a feeling of security, cosiness and privacy.  This feeling of security continues into whichever room you're going in to because we either show you into it and tell you what you need to do or go with you and talk you through what is happening in the case of massages, chiropractic and yoga. We give you complete control throughout whatever you are here for.
After the Session
There's nothing that ruins a relaxing experience more than being rushed out.  We leave time between all our classes so you can ask the instructor questions or chat to other guests and have a relaxation area for people to sit and rebalance themselves after one of our treatments.  Because we offer our floating and massage guests a healthy sorbet and pot of tea after their treatment, we think they get to round off their experience in a way that really helps them to feel valued and cared for.
We like to think that the atmosphere we've created through our staff and the way we have decorated The Float Spa is what creates such a comforting and relaxing atmosphere that people feel immediately better when they walk in but we suspect there could be an element of people feeling like they've made a change for the better by coming here that adds to it too.  If you haven't experienced The Float Spa Effect for yourself, call 01273 933 680 to try our services.