We're very proud of the work we've done over the years to make our operation as environmentally and socially responsible as possible so we are very pleased to have formalised our approach to this in a new Corporate Social Responsibility (CSR) Policy.  From the start, we set out to be as ethical as possible but we're really pleased to say we've managed to increase the things we do to lessen our environmental impact.  Here are some of our recent initiatives in line with our CSR policy.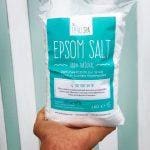 Microplastics
Because we do a lot of washing of towels at The Float Spa, we were concerned about the amount of microplastics we might be adding to the waste water so Sarah, our manager, very kindly did some research and came up with a solution.  She discovered a product called Guppyfriend which are washbags that catch all the loose fibres and microplastics before they get washed into the waste water. We now use these every time we do a wash.
Single Use Plastics
An area where we have really cracked down recently is with single use plastics.  We are very close to eliminating their use completely at The Float Spa.  Our team have achieved this in a few different ways.
Offerings to Clients
Water bottles were an issue because, although we have nice filtered water people can drink with a glass, they can't take the glass into the yoga studio because of health and safety. That meant we had to sell bottled water until we came up with the idea of buying in reusable bottles made of biodegradable bamboo-based material and letting clients fill them up as much as they like from our filtered water tap.  Similarly, we were aware that our ear plugs are a single use plastic so we now offer reusable ones to our float members and store them for them.
Liaising with Suppliers
It bugged Camille that, despite our best efforts, we were throwing away plastic because our suppliers were sending us things in plastic we couldn't recycle.  She managed to persuade a few suppliers, like those who supply our yoga clothes, to stop sending things packaged in plastic and came up with a clever way of opening the bags our Epsom Salts arrive in in a way that doesn't damage them so they can be sent back to the supplier and reused.  We also started supplying our clients and local shops with Epsom Salts out of our bulk supply in smaller biodegradable bags as our supplier couldn't supply smaller amounts in reusable or biodegradable bags.
Refills
Buying things in bulk, like our Epsom Salts, has allowed us to set up refill schemes to reduce plastic wastage in a cyclical economy.  We now allow clients who buy the cosmetics we sell to refill the bottles from our bulk supply too.
Continuous Improvement
Getting our healthy ethical snacks to come packaging-free is our next challenge and we are addressing that at the moment.  Because being environmentally friendly is so important to us and we never give up trying to improve anything at The Float Spa, we continuously look for new ways to do even better and encourage feedback from clients and staff on how we can do this.
Having a CSR policy to work to is helpful but we expect to add to it and expand its reach over the coming months as we discover even more ways we can support the environment and the local community.  If you have any questions about our ethics or have any ideas about how we could do even better, please don't hesitate to get in touch on 01273 933 680.