I really struggled in my first pregnancy. I put on a lot of weight, and sleep was out of the equation about 6 months into the pregnancy – I remember daily waking at 3am and watching films on Netflix – then walking around work like a zombie after 11am.
Second time around, I was in a job that I love, but having an active 3 year old daughter to contend with – i wondered if this time would it be harder than the first? Yes, yes, yes.
Firstly as soon as I found out I was pregnant I knew this time it was a boy – everything felt different. I was sick a lot, very tired, craving sugar, weak and by the end of it in constant pain.
As a regular 'floater' I do float weekly, having to stop for the first 12 weeks was hard for me.
(We recommend waiting until 12 weeks as getting into warm water may increase the blood flow throughout your body and in the early stages of pregnancy this can increase the blood flow to your baby.)
I could only wait until I was 10 weeks pregnant for my regular float. The first thing I realised was how much your body temperature changes – I'd always enjoyed the warmest room (float room 2 at The Float Spa) my goodness my first float I really struggled with the heat – mental note taken for my next one – to reduce the water temperature a little, which we can do very easily.
You feel a huge overwhelming connection with your baby – even in the early stages, both you and your baby are doing exactly the same thing at the same time 'floating in a womb like environment' it feels incredible.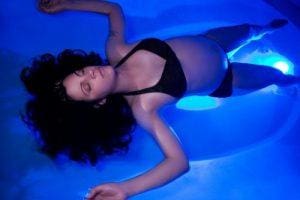 Tiredness – as a business owner working 60+ hours per week, whilst running around with a 3 year old – being able to take a step away by floating and 'catch up' with sleep really allows your body to be still, your baby feels you relax.
Aches & Pains – in the latter stages of my pregnancy I developed SPD (Symphysis pubis dysfunction) it was so painful both sitting and standing – I could barely walk as I was in constant pain. Nothing relieved the pain except floating, I was very tempted to float every evening as it was the only way of eliminating pain.
Connection with baby – (baring in mind I have floated a lot) my baby really felt a difference when I floated – it was as if when I was in the pod, there was extra space and he found it much more comfortable, the first few minutes into the float, he would use my tummy as a punch bag, but then afterwards he would settle down completely – 'just like letting go' in the pod – we were both floating together. On several occasions I could hear his heart beat along with mine, a bond which I hadn't experienced with my daughter.
Floating + pregnancy = pure bliss.