Food is so much more than fuel. Did you know what you eat directly impacts how you feel? Food is information for our bodies, it supports our microbiome – the vast amount of living bacteria in our gut which communicates with our brains – and is the precursor to our neurotransmitters (or brain chemicals) and hormones. By nourishing ourselves with nutrient dense foods, every bite is an opportunity to feel better.
In our regular Good Mood Food feature, I'll be bringing you the food hero of the month and giving you the low down on the nutritious benefits of the ingredient and my favourite seasonal recipe!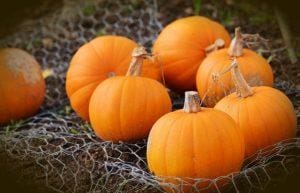 October's food choice had to be Pumpkins – and no, they're not just for carving. Pumpkins (as well as other squashes) are in abundance this time of year – but what's so great about them?
De-stress and Sleep
Pumpkin is a fantastic choice when it comes to your brain health. As well as being packed with vitamins and minerals, it's also one of the best plant-based sources of tryptophan – an amino acid needed to produce serotonin – our happy hormone – in the brain. As well as regulating our mood, tryptophan is involved directly with supporting healthy sleep cycles meaning dosing up on regular servings of pumpkin can boost our mood, enhance our sleep and buffer the effects of stress.
Vitamin A
The pumpkin's bright orange colour comes from its abundant supply of beta-carotene, which is converted to vitamin A in the body. In fact just one serving of 'winter squash' can give you over 200 percent of your recommended daily intake.
Vitamin A is a crucial antioxidant in the body, helping to protect the body from damaging free-radicals. It is also an important vitamin to support the immune system, as is Vitamin C also found in pumpkins – much needed in these cold-filled months! Studies show that Vitamins  A & C can strengthen your immune system and help fight infections
Eye health
Vitamin A is also a big player when it comes to eye health –  it is essential for helping the retina absorb and process light. Pumpkin also contains lutein and zeaxanthin, two antioxidants that are thought to help prevent cataracts and premature eye aging.
Don't forget the seeds!
It's not just the fleshy part of pumpkin that's beneficial – the seeds pack a huge nutrient punch when it comes to mineral content. A fantastic source of Magnesium and Zinc, pumpkin seeds are incredible way to get these key immune nutrients into your diet
Favourite ways to eat pumpkin
Whilst roasting slices of pumpkin in olive oil and garden herbs like sage or thyme is one of my favourite ways to eat this lovely squash, the sweetness it gives means you can also use pumpkin in healthy cakes and desserts.
Pumpkin Spice Cake:
100g Gluten Free Flour (preferably coconut or oat flour)
2 tsp ground cinnamon
1/2 tsp ground nutmeg
1 tsp ground ginger
1 tsp of vanilla extract
2 tsp baking powder
1 tsp Apple Cider Vinegar
Pinch of sea salt
6 large eggs (or Flaxseed Eggs if you're vegan)
200g (half a tin) pureed pumpkin** (make your own by blending roasted pumpkin in a food processor or by tinned, just ensure it is unsweetened)
3tbsp of real maple syrup
Handful of sultanas
½ cup melted coconut oil
Method:
Preheat oven to 180 C and prepare a cake or loaf tin
Mix the dry ingredients together (coconut flour, spices, baking powder and salt)
In a separate bowl, whisk eggs, then add in pumpkin, maple syrup, coconut oil and vanilla.
Slowly add the dry ingredients to the wet, mixing slowly then allow the batter to rest to allow the coconut flour to absorb all the fluid. Stir again and add to your baking tin
Bake for 30-35 minutes until the cake is golden brown and cooked through the centre
Let cool for 10 minutes and serve with a dollop of coconut yogurt and pumpkin seeds!
To find out more about nutritional advice please contact The Float Spa.